We look forward to opening our doors soon.
Delays in building materials due to COVID mean our expected opening date has had to move to mid June.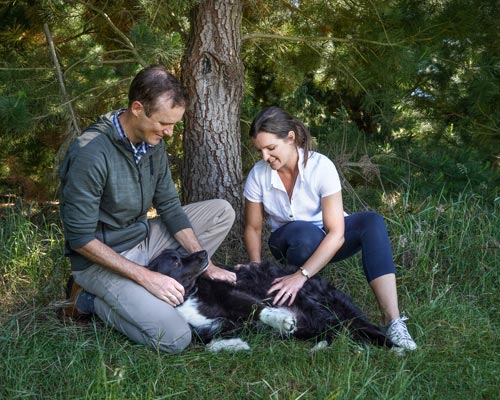 Welcome to Pegasus Bay Vets
We are an independent, family owned, companion animal practice, passionate about providing a high standard of care to all Pegasus pets.
Right from the early days of clinic design, our focus has been to create a low-stress environment where you and your pet are warmly welcomed and are treated with compassion and respect.  We love our own pets deeply and are keenly aware of how special and important your pets are to your families.
We are open-minded, we respect your perspective, and we are here to listen and share.  We are all on a journey together and we find ourselves learning everyday how to improve your pets health, your relationship with them, and their enjoyment of life.
We are building a future for our family and care deeply about the impact our activities now have on our family's future experience on this planet. We have strong aspirations to adopt and develop sustainable and low waste clinic practices and supply chains.
Afterhours Emergencies
We aim to personally provide emergency afterhours care as much as possible. We see this as an important part of providing a consistent personal veterinary service. Like everyone we do need nights off as a family, we need some weekends off, and we need to take family holidays. As such there are going to be some nights or weekends where afterhours emergencies will be referred.
In a genuine afterhours emergency where your pet is very sick or injured please call the clinic line (03) 740 0692.
Please note – Emergency Afterhours consultation price is $150 (incl GST) and all services and medications have an additional 30% afterhours surcharge.
If you call on an evening where our personal afterhours service is closed we have made an arrangement for emergencies to be covered by the Rangiora Emergency Vet Hospital, Cnr Lehmans Rd and Oxford Road, Rangiora. Our phone system should divert your call directly but if you have any issues the link below provides all the information you need.